Puerto Rico ⎮ Cabo Rojo ⎮ Cabo Rojo Beaches ⎮ Playa Combate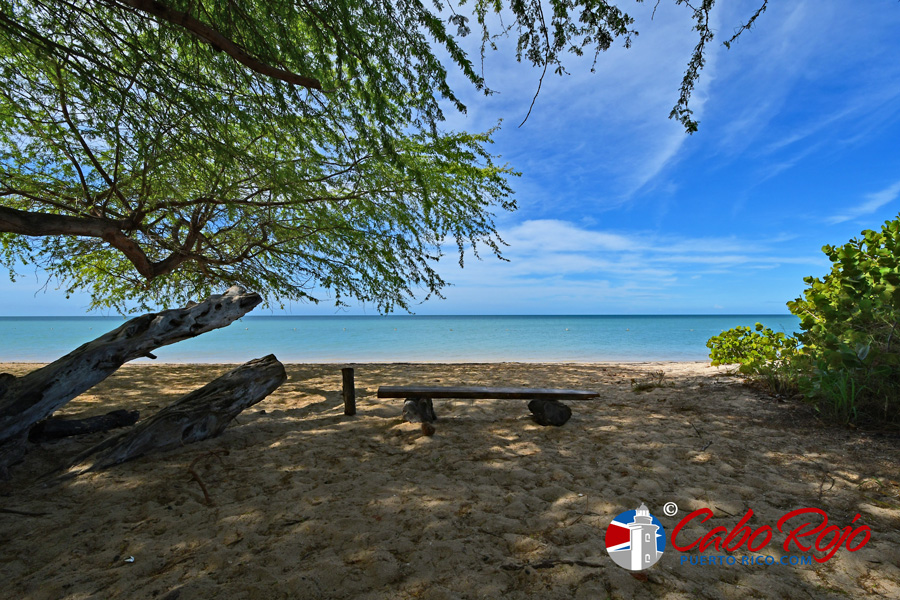 Combate Beach is a summer favorite among Puerto Ricans, with thousands making the trip to the furthest point on the southwest coast of the island.   Playa El Combate is loved by locals for its casual and festive ambiance on weekends after a fun day on the beach.  Before dinner, all eyes are on the skies and the horizon for the awaited sunsets of Cabo Rojo.  Cabo Rojo is a wonderful beach for families with children, the water is calm with shallow areas for children to play safely.
Top Rated Tours to Nearby Lajas & Isabela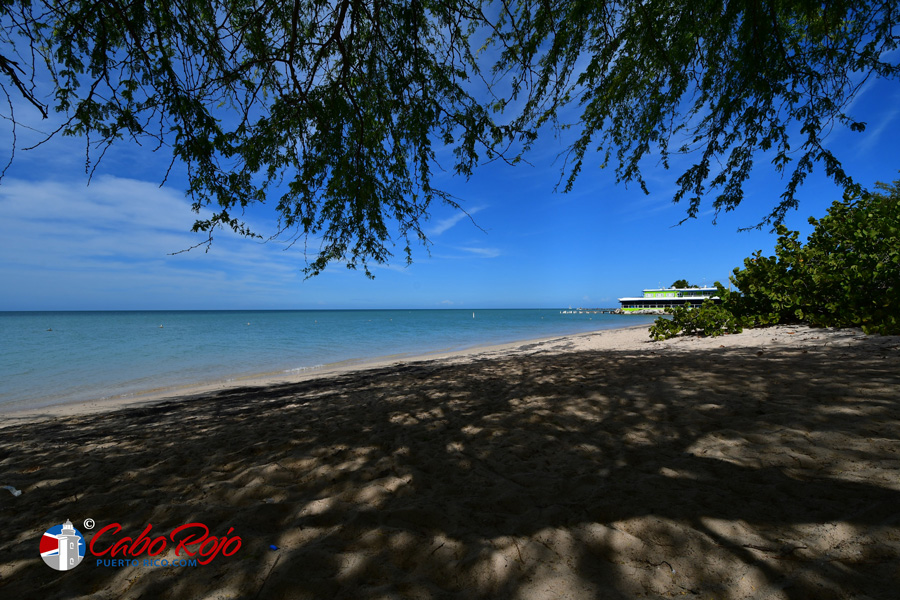 Playa Combate is part of Bosque Estatal de Boqueron (Boqueron State Forest) and managed by Departamento de Recursos Naturales y Ambientales (Deparment of Natural & Environmental Resources).   Nature and beach lovers will enjoy taking a long scenic walk, and the salt flats are within walking distance through the trail.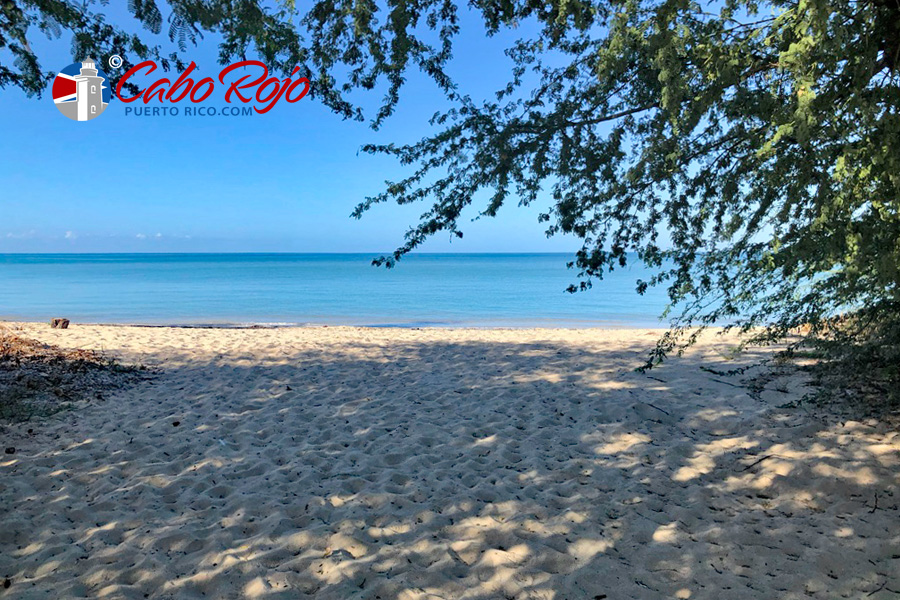 For visitors looking for traditional Puerto Rican food at non-tourist trap prices, Combate Beach is a great place to be.  There are various "chinchorros" (food kiosks, outdoor places to eat) that sell traditional Puerto Rican fritters and fresh seafood, and inexpensive drinks.  Puerto Ricans prefer to keep it simple, is the true island way and that's why they love Combate and Cabo Rojo.  The north side of Combate Beach is charming with humble colorful homes along the shore that have been passed down for generations, mostly fishermen families.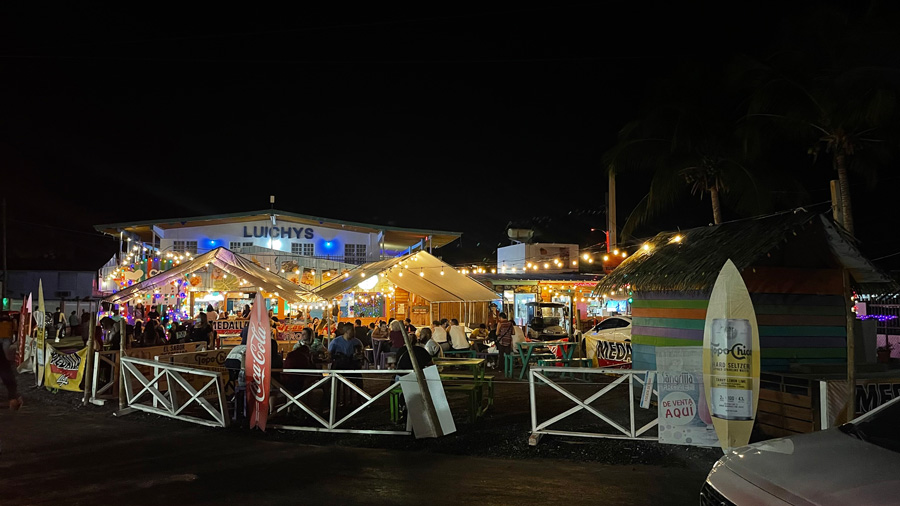 We'll start off by introducing you to the south side of Combate, a wonderful beach to take a long walk and find a quiet spot to enjoy the Caribbean as nature intended completely immersed in the beauty of the sea.  Most beachgoers tend to stay near Annie's Place Restaurant and off-street parking for convenience, the farthest south the quieter it is…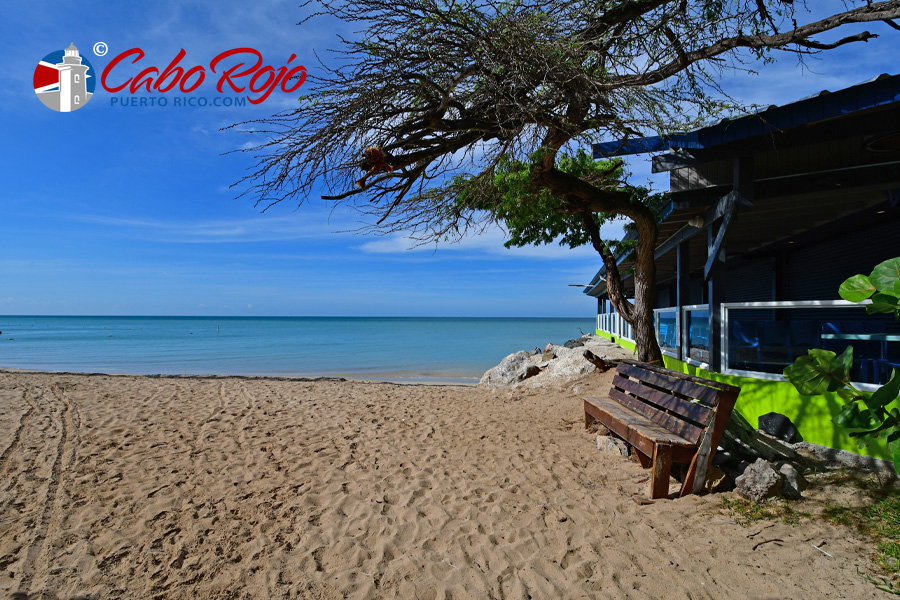 The colors of the water range from deep blue at the horizon, light turquoise to clear glass swimming areas.  The sand is light and flat along the shore, making it easy to take a long stroll down the beach.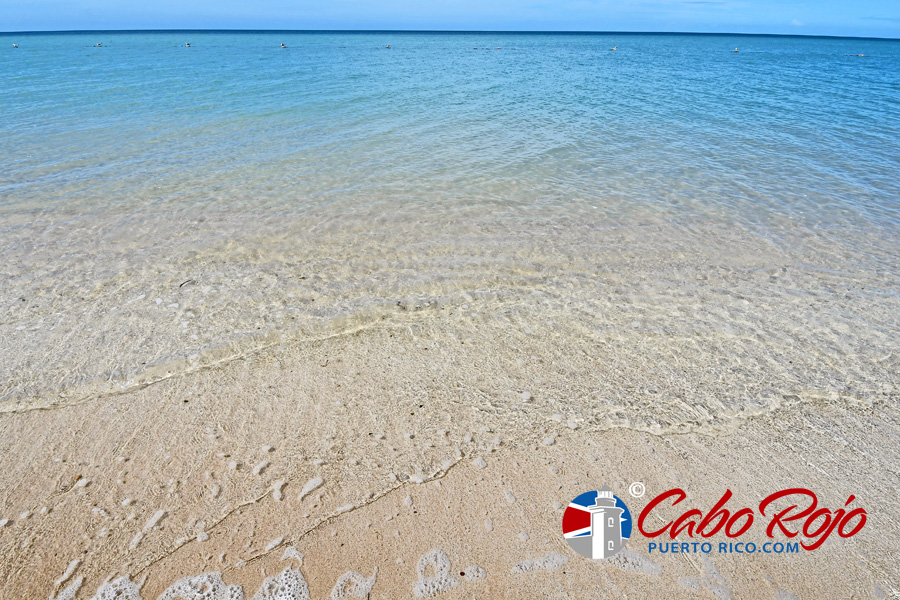 The shades of blue are postcard-perfect, contrasting with light golden sand and flora.  The photo below was taken with a simple phone… much, much prettier in person.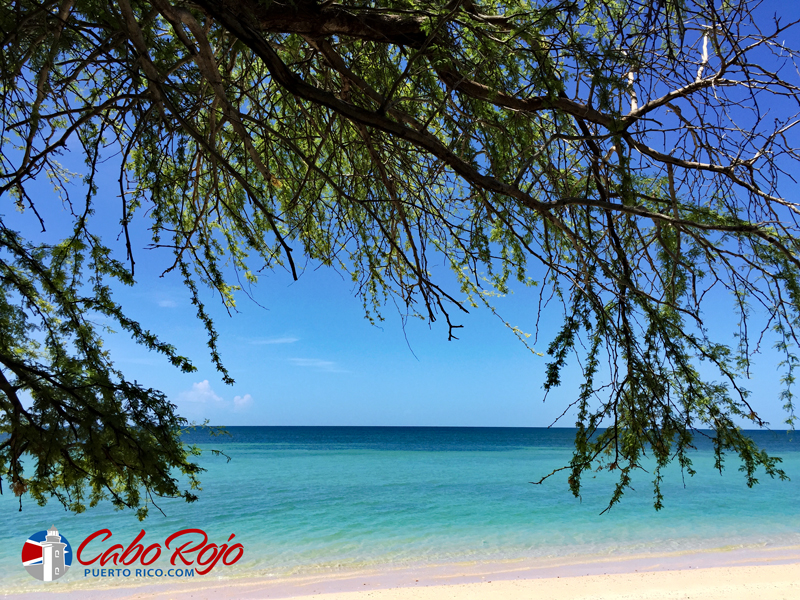 As you walk south, you'll find dreamy hiding places under trees interestingly shaped by the wind, and sun alone… providing the perfect shade, perfect for a romantic conversation or spending quality time with loved ones and friends.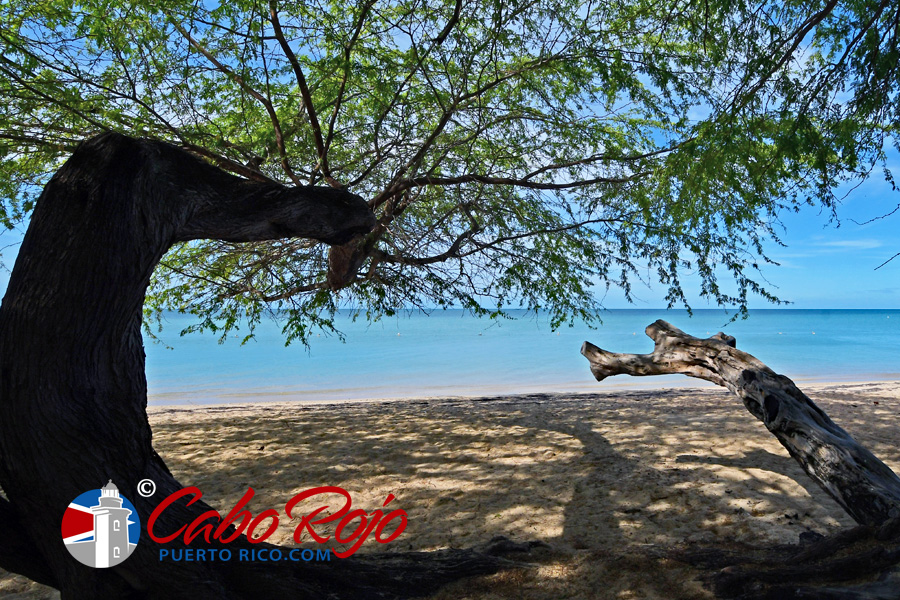 On the way, you'll pass the ruins of an old pier…a great photo stop.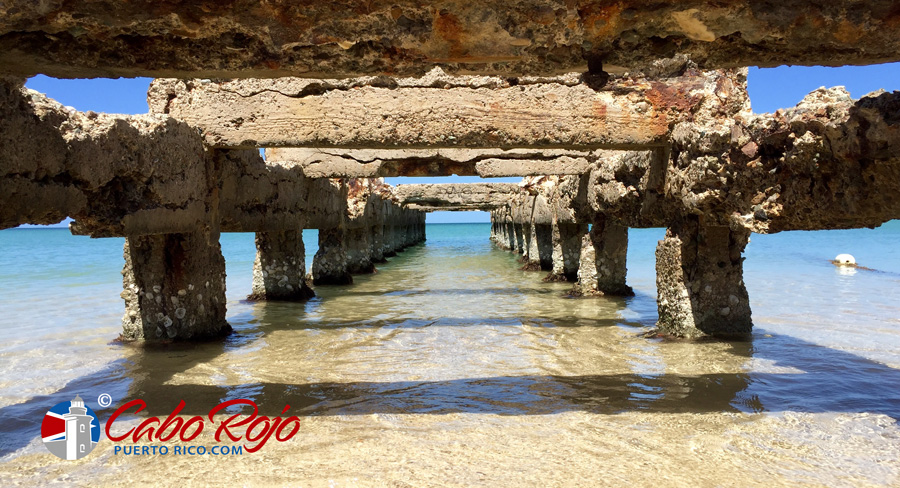 As you continue walking south further into the Caribbean Sea, the water keeps getting clearer and calmer.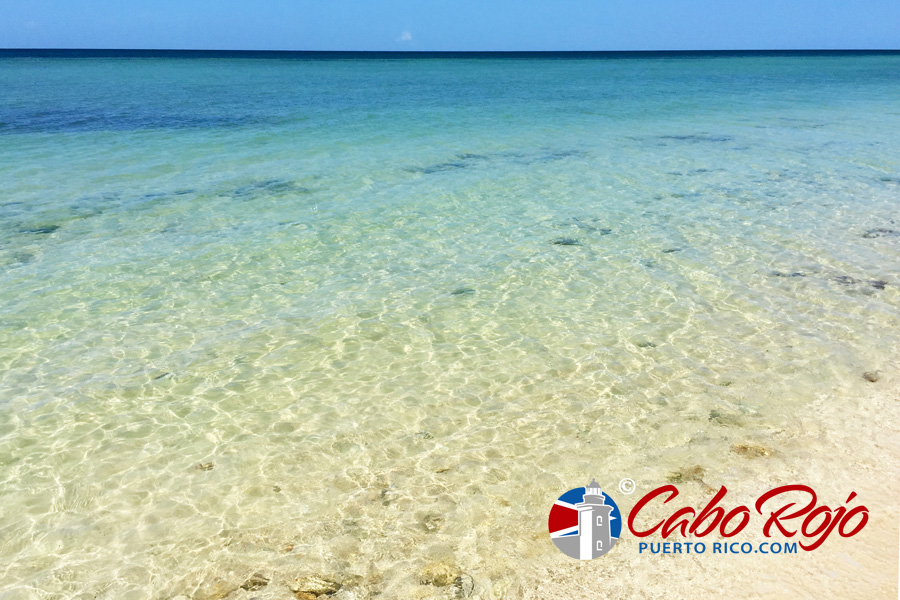 If you were to stay along the nature trail parallel to the beach, you'll get to the Salt Flats, an interesting sight to see.  The contrasting colors of a blue sky, lush green flora, pink waters, and snow-white salt piled are a wonderful sight.  Please refrain from taking salt, or stepping on the salt flats to protect them and keep you safe.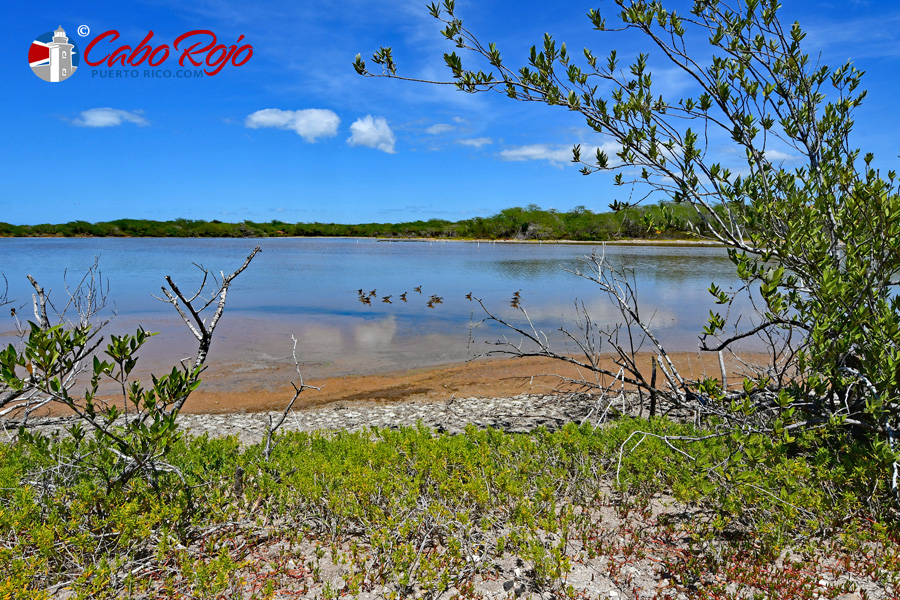 Continue walking until the end and you'll get to the beautiful Punta Aguila, there's a rocky island we see people walk to along the strait with very shallow water, a haven for a variety of endemic and migratory birds… a very peaceful place.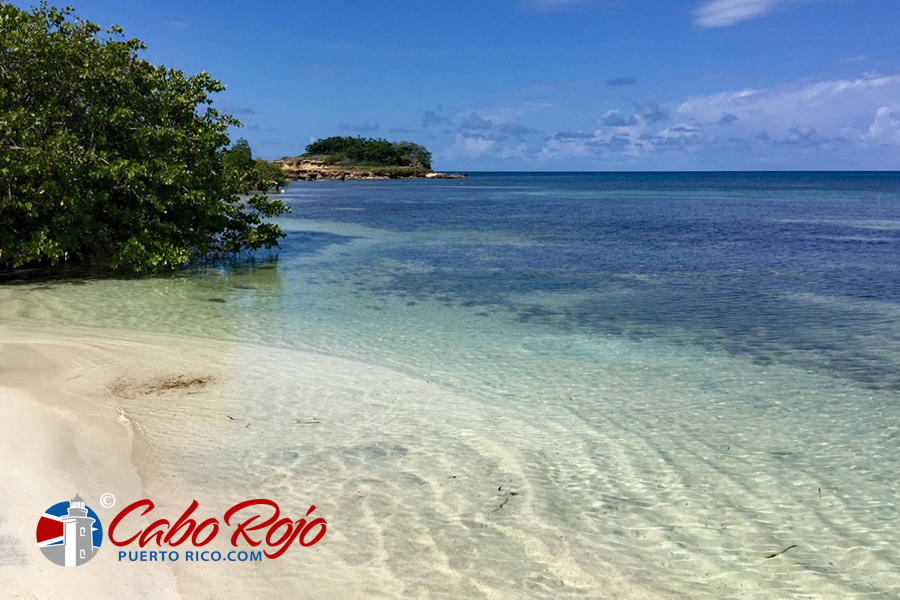 Keep in mind that there are no lifeguards and there may be poor reception in the area, so don't wander alone and or take unnecessary risks, especially with children. 
The north side of Combate is a completely different landscape, and it drastically changed after Hurricane Maria, most of the facilities which were already in disrepair got destroyed, and were removed.  The north side is not really a beach anymore, it is mostly used by fishermen and homefront to a mobile home/camping community.
There are colorful homes along the coast, most of them are used as vacation homes by families that live in the San Juan / Metro area, some are rented to tourists and visitors from other towns around the island.  Accommodations are simple but fully equipped, great for families on a budget who plan on spending most of their time exploring Cabo Rojo and the west coast of Puerto Rico.
Back in the day, Combate was the place to watch sunsets from the fishing pier, and for just about every teen in Cabo Rojo, jumping off the pier… such great memories every local holds dear.  Today, the old pier was removed and a new one was built, sadly there is no access for visitors, just fishermen and boat owners with a permit.
Top Rated Nearby Tours
West Coast of Puerto Rico
Facilities & Services - Playa El Combate
Cabo Rojo, Puerto Rico
Lifeguards: No
Safe for Swimming: Yes
Parking: Free off-street.
Dining: There are various restaurants along Playa Combate, one of the reasons this beach is so appealing.  Some restaurants are simpler appealing more to locals for their non-touristy prices and cheap drinks.  Annie's Place is the most popular place to eat in Combate for tourists, a nice waterfront restaurant and open-air bar, service can be slow when is really busy.
Crowds:  The crowd here is mainly families at the beach during the day.  On weekend nights, the vibe is pretty festive, mainly with local friends and families.
Convenient Stores: On the way to the beach, you'll pass various gas stations, mini-markets and bakeries where you can get drinks, pastries, and sandwiches to take to the beach.
Entrance Fee: Free
Facilities: There are no public restrooms at Combate Beach.  You may wish to purchase refreshments at Annie's or nearby restaurants and use their restrooms.
Map of Playa Combate (Combate Beach)
Cabo Rojo, Puerto Rico
Photos of Playa Combate
Cabo Rojo, Puerto Rico