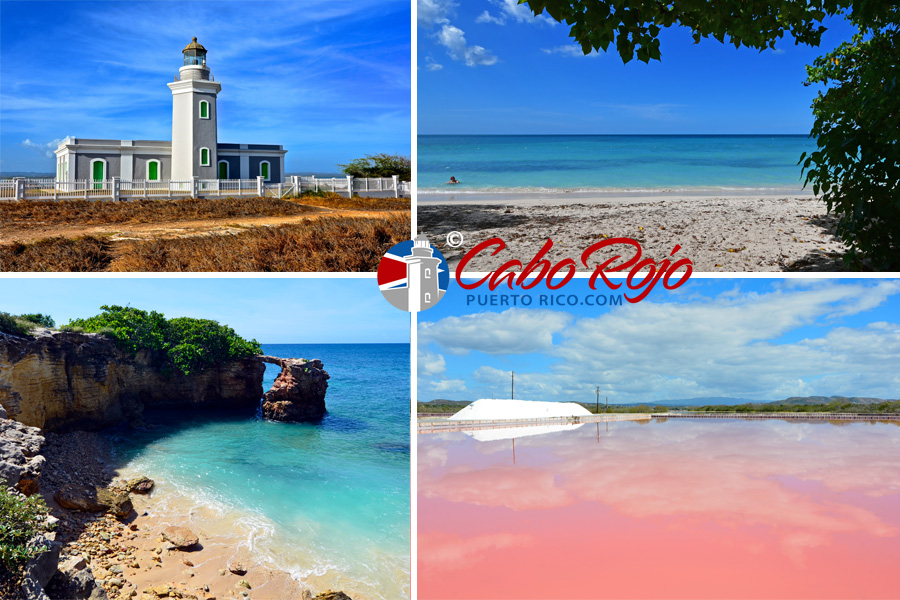 Cabo Rojo offers more than beaches, here you can walk into a nature reserve where you'll find the most scenic beach location in Puerto Rico, and the most visited lighthouse on the most scenic location of the island.  Nature lovers can spend days hiking the Cabo Rojo Wildlife Refuge offering hiking and bicycling trails, a great way to connect with family, nature and staying active.  Cabo Rojo is home to three popular beaches in Puerto Rico: La Playuela (Playa Sucia), one of the best beaches in the Caribbean, Boqueron Beach loved by families, and Buye.  When you're done exploring Cabo Rojo, you can enjoy attractions and things to do in the neighboring towns of Lajas, Guanica, San German, and just up north, you can enjoy the best surfing beaches in the Caribbean in the towns of Rincon, Aguadilla, and Isabela.  Following are sights and points of interest that await in Cabo Rojo.
Faro Los Morrillos (Los Morrillos Lighthouse)
Los Morrillos Lighthouse is the most visited and interesting attraction in Cabo Rojo.  As locals like to call it "El Faro" is a part of one of the best day trips you can take on Puerto Rico's west coast; there is history, and breathtaking views sure to make the best travel photos of your vacation.  The lighthouse is inside the Cabo Rojo National Wildlife Refuge offering visitors a full day's worth of activities and sights to explore.  
Las Salinas / The Salt Flats
Home to the famous pink/red waters, a favorite place for eco-travelers.  Las Salinas has been functioning since 1525 and it's a great educational attraction for tourists, students, and the general public. Tours available.  The observation tower offers sweeping views of the salt flats, you can schedule a tour, go bicycling or hike the trails that take you up close to the salt flats.
Beaches of Cabo Rojo, Puerto Rico
Ask any Puerto Rican family where they love to go in the summer for a family beach vacation, and most of them will tell you…Cabo Rojo.  Cabo Rojo has always been a popular beach destination among residents of the island for its family-friendly beaches, budget-friendly accommodations, and great food at non-tourist prices. No other town offers so many beaches, most of them with calm waters safe for swimming all year round.
El Puente Natural / Natural Bridge
El Puente Natural, a natural work of art right in the southwest corner of Puerto Rico, has become one of the most photographed scenic spots in Puerto Rico, frequently appearing on the front covers of magazines worthy of a romantic setting on Pirates of the Caribbean.  The bridge is part of the Boqueron State Forest, an easy hike from Los Morrillos Lighthouse.  Please respect and follow the rules of visiting, refrain from standing on it, or soon we may no longer have it.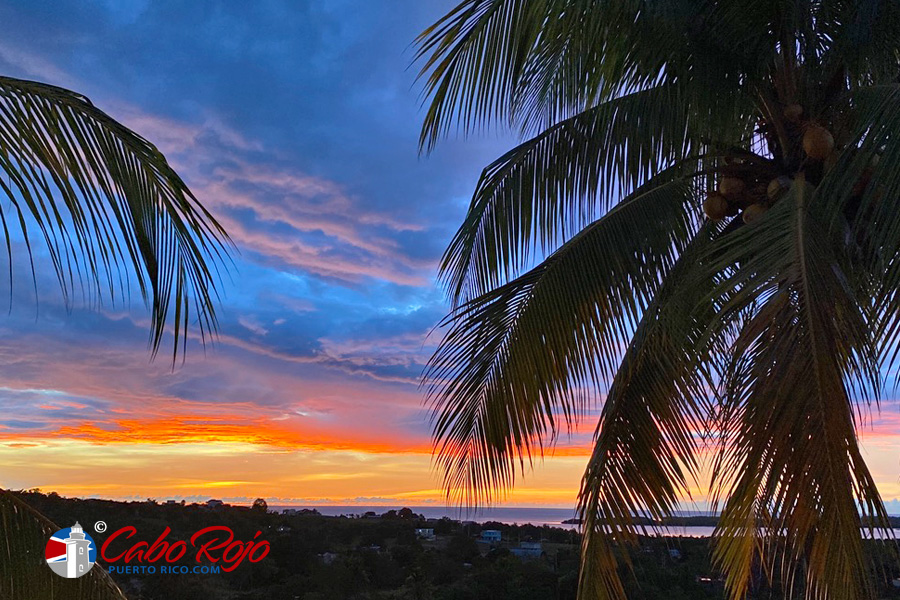 After fun-filled days exploring the natural wonders of Cabo Rojo, be sure to make time before dinner to watch the sunset.  Every day of the year, there's a new work of art created right before your eyes right over the Caribbean Sea.
Plaza de Recreo de Cabo Rojo (The Cabo Rojo Square)
After a fun day under the sun exploring the beautiful coastline of Cabo Rojo, head to "El Pueblo" (center town).  The simplicity of life and richness of friendship can be seen at the center of the city of Cabo Rojo.  Cabo Rojo's plaza remains an active town where friends and family meet for a cup of coffee and a game of dominos.   Park and simply walk around the plaza, there are various restaurants, coffee shops, and an ice cream shop around the corner.  After a nice relaxing dinner at one of our local restaurants, have a seat on a bench, enjoy the fresh breeze, and get immersed in the simple yet rich culture of the people of Cabo Rojo.  During the day and each night of the week, you'll find friends playing an enthusiastic game of dominoes.  The cafeteria has tables you can use, so just bring your set of dominoes, get a cup of coffee, and join the tradition that lives on in Cabo Rojo.  Throughout the year musical and artistic events take place. 
The Cabo Rojo Wildlife Refuge
A wonderful place that's still considered a secret escape for nature lovers giving visitors a variety of outdoor activities the entire family can enjoy.  Locals love these trails for jogging, walking, and bicycling, however, you'll never find crowds.  "This wildlife refuge is considered the most important stopover for migratory birds in all of the Caribbean."  The trails offer many opportunities to connect with nature and learn about the local flora, see both native and migratory birds and enjoy the sport of fishing.  Visit the official website.
Punta Guaniquilla Nature Reserve
Punta Guaniquilla Nature Reserve is one of the most interesting hiking trails on the west coast.   Trails lead through a meadow, goat trails leading to intimate beach spots, scenic outlooks, beaches lined by mangroves with crystal clear water, and ultimately the lagoon… where you can observe pre-historic rock formations archeologists say are 11,000,000 years old.
The Boqueron State Forest
The U.S. Fish & Wildlife Refuge established in 1974, maintains 587 acres of subtropical dry forest.  The Boqueron State Forest is a must-visit for eco-travelers, worthy of exploring its trails through a subtropical dry forest with breathtaking views at every turn.  Here you can birdwatch, admire native flora, and see gorgeous rock formations along the cliffs.  Bring your fishing rod, there are various spots for shore fishing.
Isla Ratones
Isla Ratones is still one of the secret gems just across the village of Joyuda.  The island offers picnic facilities, clear water, and coral reefs to explore by snorkeling.  You can get there by a 5-minute boat ride or kayak there.  Spend a morning swimming, snorkeling, and getting the perfect tan, then back for plenty of restaurant choices proudly serving fresh fish with a sunset view.  You can get to the island on a short 5-minute boat ride with a local charter or kayak there.  + Isla Ratones.
Santuario Schoenstatt
A beautiful place indeed, Schoenstatt translates to "beautiful place", a sanctuary nestled on a peaceful hillside overlooking the Caribbean Sea.  This sanctuary is a replica of the Church of the Apostolic Movement of Schoenstatt in Germany.  Catholic or not, we think you'll enjoy visiting this inspiring site. 
Mona Island
This uninhabited island is a nature reserve offering some of the best scuba diving in Puerto Rico, snorkeling, caving, and camping.  Swim on secluded beaches and have the most unforgettable stargazing memories.  + Mona Island, Puerto Rico
Nearby Attractions & Things to Do
Cabo Rojo is a great central location to explore all the attractions and things to do on the west coast region.  From here you can take a scenic drive along the country roads to the coastal towns of Lajas & Guanica.  If you're a history buff you can visit the neighboring town of San German.   High tourism season is during the summer months, making Cabo Rojo a nice escape for relaxation and fun without crowds.