Puerto Rico ⎮ Cabo Rojo ⎮ Cabo Rojo Beaches ⎮ Playa Buye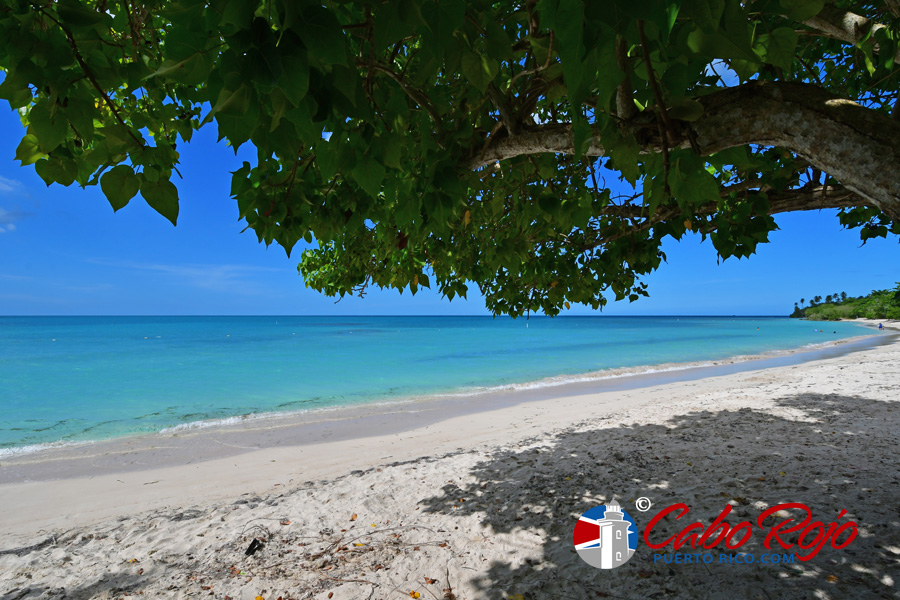 Buye is located in Cabo Rojo, the most beloved beach town in Puerto Rico.  Cabo Rojo is on the west coast region, right at the southwest tip of the island.  While La Playuela / "Playa Sucia" offers breathtaking scenery and playful waves, Buye has the prettiest shades of blue, the calmest water, and a very laid-back family-friendly beach culture.  Buye is well known for residents in Cabo Rojo but a tucked-away secret beach in comparison to other beaches around the island.  On-site there is an open-air restaurant/bar overlooking the beach, gift shop, and restrooms.
Award-Winning Tours in Puerto Rico
The Beach Experience at Playa Buye
At Buye you get two distinct beaches in one location. The colors and clarity of the water make Buye one of the prettiest beaches on the west coast of Puerto Rico.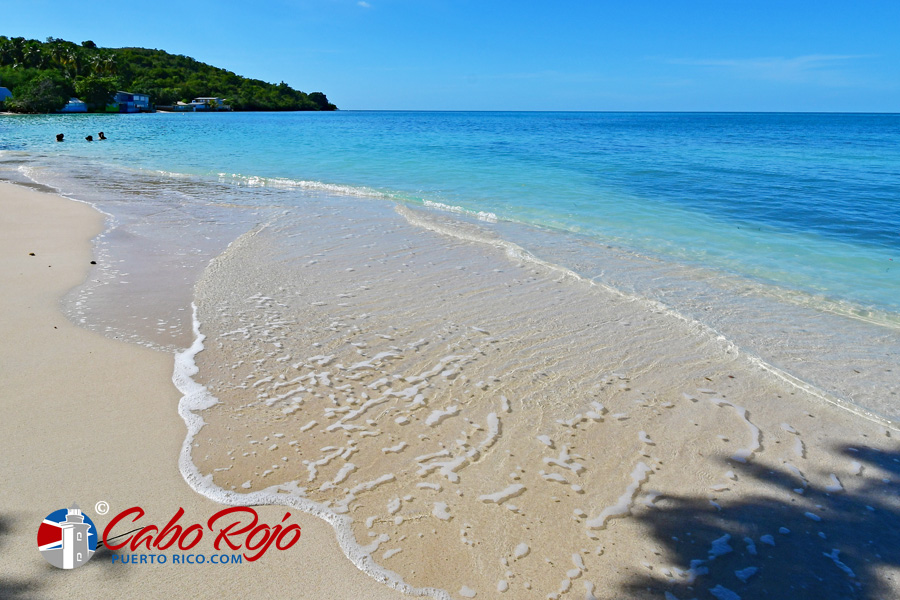 The waves are very gentle most of the year making it a good beach for families with toddlers.  There are plenty of trees offering shade that you can claim for the day.  Buye is great for taking a stroll along the beach, you can walk for about a half-mile, admire the flora, watch pelicans and jump in for a swim.
When you enter through the parking gate, you'll walk into the main beach area.  Most people spend the day here because of the close proximity to facilities, food, and parking.  The colors of the water on the main beach range from crystal clear to cerulean blues, the only other beach we've seen these gorgeous blues are in Flamenco Beach, Culebra.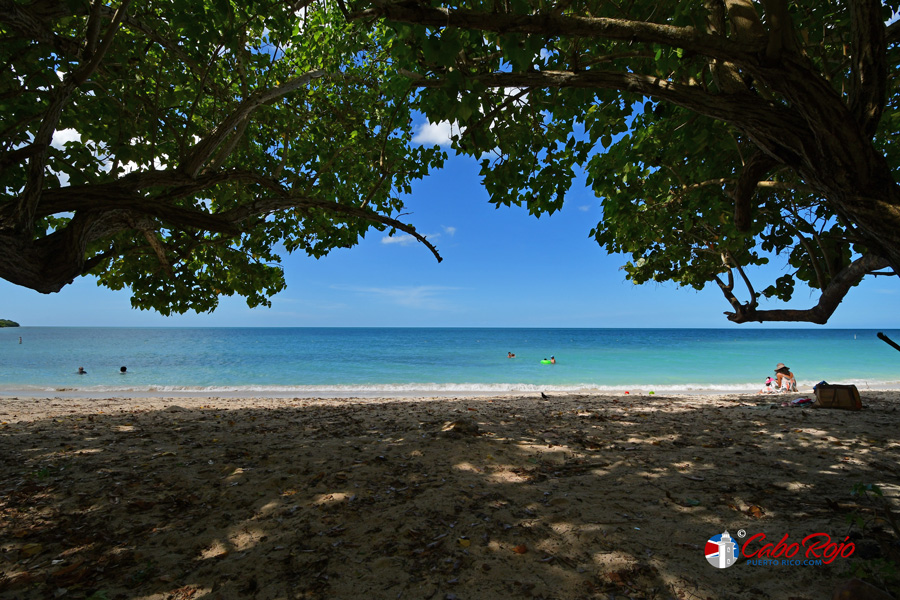 As you walk towards the next beach, the waters become more shallow and clear.  You'll get to a spot with a tree blocking the way, from there you can walk around from the water or take a narrow dirt path on your right.  After a few steps, you'll get to the most beautiful spot of Buye, a more secluded beach that's postcard-worthy.  The waters are crystal clear, most likely you'll have it all to yourself or with a few other beach lovers.  During weekends, you may find some boaters anchoring for the day here.
As you keep walking, you'll see more seagrass at the bottom, an important ecosystem in the area.  You'll find tree branches washed ashore that look like works of art.  It's a pretty walk with leaning palm trees along the way.  Right along the shore, you may spot starfish, please admire these delicate creatures, but never, ever remove them from the water or move them, you can kill them in seconds.
Ultimately you'll get to a beautiful spot perfect for having a relaxing conversation with a loved one.
Things to Do at Playa Buye – Cabo Rojo
Swimming – Playa Buye is a family-friendly beach where kids can play and swim safely, the water is not deep in the designated swimming area.  Although the water is calm and safe for swimming, there are no lifeguards on-site, so you swim at your own risk, never leave your children unattended.  If you need help, feel free to ask a local, Puerto Ricans are known for being very helpful and friendly.
Kayaking – Playa Buye is an excellent beach for kayaking, depending on the conditions, you may be gliding over very clear water all the way to the north side of Buye and beyond.   Stay along the rope that defines the swimming area for safety, the water is calm and near people in case you need assistance.  Often times there is a local business offering kayak rentals at the beach. 
Snorkeling – Back decades ago, there was a gorgeous colorful reef with abundant sea life, but most of the coral is dead due to overfishing, development, and lack of protection.  You may still bring your snorkel gear, on the north side of Buye, the water is clearer and there's a coral wall where you can do some snorkeling.  We often find schools of colorful fish right swimming right around us, kids will really enjoy the experience.
Travelers vs. Tourist Experience at Buye Beach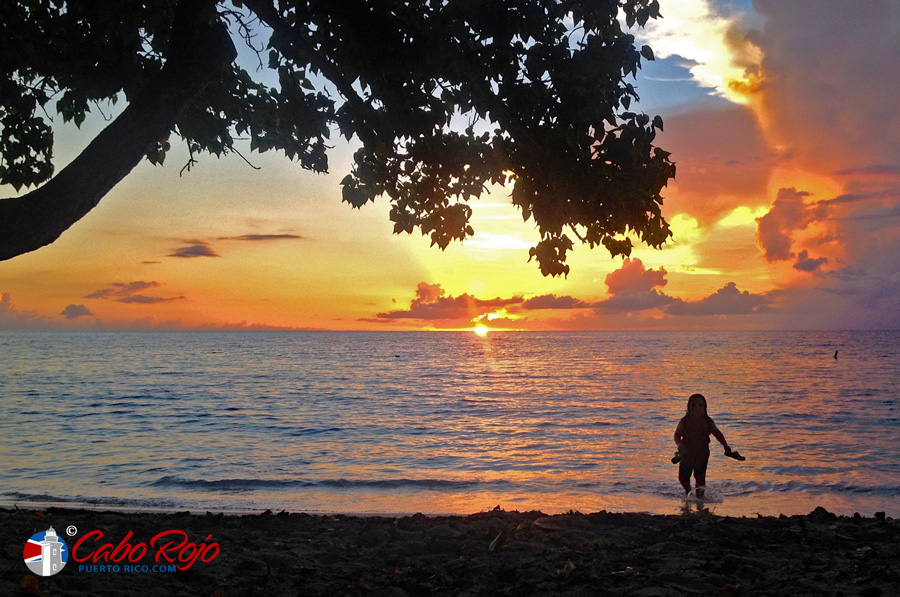 If you're a tourist seeking the perfection you typically find at a beach resort area, you may be a little disappointed.  We encourage you to overlook the little things that are "not so perfect", so you can focus on enjoying the beauty of this beach and other spots locals love around the island. Buye does not have the typical touristy look with resorts and expensive homes on the beach.  There are a few modest homes on the southern end of Buye painted in bright colors.  During the summer months and holidays, you may find more trash than usual, it gets cleaned up, but depending on the staff available and crowds it may not get cleaned up right away.
If you're a traveler seeking to experience a true local beach where you can observe and immerse yourself in Puerto Rican beach culture, this is a place you don't want to miss.
Because we love this beach, we'll tell you a more personal view of Buye. We are from the town of Cabo Rojo, we know the beaches of the west coast and this town very well. We can appreciate the uniqueness of many beaches, but when we're in the mood for a good swim on crystal clear waters and a good family time, we head to Buye.  Buye is much more than a pretty beach, it's laid back and the casual atmosphere gets us all to relax before we even get there.  As soon as we arrive, we enjoy the simplicity and pleasures of island life. We pack our lounge chairs, a beach bag with sunblock and water, and nothing more. When we're hungry, we head to the cafeteria for some empanadillas and drinks, we're good to go for a few more hours.
We always end our day at the beach with a gorgeous sunset show…and a smile on our faces. Life is good…  We invite you to come to Cabo Rojo and experience our beloved and beautiful beaches.
Facilities at Playa Buye, Cabo Rojo, Puerto Rico
picnic areas
gazebos for rent
pool room
gift shop with beachwear, souvenirs, and beach gear
restrooms
grilling areas
cafeteria
off-street parking
showers and changing rooms for a small fee
Crowds at Buye Beach, Cabo Rojo, Puerto Rico
Weekdays at Buye Beach:  The vibe is very relaxed during weekdays with few people on the beach.  The beachgoers you'll see during the week on non-summer months are travelers that look for non-touristy beaches,  retired couples, a few families with young children.  Mornings are a great time to take a walk down Buye, is very quiet and peaceful.
Weekends at Buye: During the weekends, Buye turns into a very happy and festive atmosphere with sounds of salsa and reggaeton competing with the laughter of children and friends.  There's often a birthday party celebration or group event at this beach.  Although busier during the weekend, you'll see fewer crowds than on the nearby beach of Balneario de Boqueron.
Summer Months at Buye: During the summer months, the beach is fuller, but most people stay on the main beach near the entrance for convenience.   Even on busy summer days, you can walk farther and find a more quiet piece of paradise.  Compared to weekends at the beaches of Combate and Boqueron, Buye has a more mellow mood.
December – Early April – This is the low season at Playa Buye, in our opinion the best time to visit.  Many retired couples from the states spend the winter months at the only condominium building on the beach.  In the mornings you'll see groups of seniors enjoying good conversation and the pleasures of beach life in Puerto Rico.
Accommodations
Families with a conservative budget can enjoy accommodations at the cabañas on a million-dollar beachfront location.
Buye Beach Resort offers cabañas / cabins.  Cabañas are what most Puerto Ricans consider camping at the beach.  Cabañas give visitors simple accommodations with beds, a kitchen, and small living areas. You must bring everything you need including bed sheets, towels, toiletries, etc.  They are cleaned, but most people clean them again before using them.
Map & Directions to Playa Buye
Cabo Rojo, Puerto Rico
If you're coming from Rt. 2, take the exit to Cabo Rojo, you'll be on Rt. 100.
Keep straight, you'll pass McDonald's on your right.
At the following traffic light (Walgreens ), make a right.
Soon you'll get to a T, make a left towards "Playa Buye" / Rt. 307.
Drive on 307 until Kilometer 4.8.  Make a right at "Calle Buye".
Drive straight on this road until you see a parking lot for "Buye Beach Resort" (a campground).  Find a place to park along the road and just enter through the campground gate. The entrance is free.  If you were to keep straight you'll have to turn around, the road ends.
Top Rated Nearby Tours
West Coast of Puerto Rico